How to choose the best locksmith in Chandler AZ
When it comes to keeping your home, office, or vehicle secure, you cannot be too careful. It's important to know how to choose the best locksmith for all of your locks, keys, and security needs. You want a professional locksmith who is trusted and knowledgeable. Whether you need them to help install mechanical locks or more technologically state-of-the-art electronic digital control systems, professionalism is a must.
Locksmith Availability and Services
Look for a locksmith who will come to you 24 hours a day to get you back inside quickly when you are locked out, a professional who can re-key your existing locks or install new locks, safes, and keyless security systems.
The first question you need to ask is what type of locksmith services the company specializes in to make sure they handle what you need. Some of the services a professional locksmith may offer include:
Locksmiths provide traditional mechanical locks and keys services and most also offer electronic locks in homes, offices, and automobiles as well as commercial property services.

A skilled locksmith will be able to repair, replace, or repair locks.

Find a locksmith when you need a key duplicated or an electronic key programmed.

Make sure you find a locksmith who is able to respond to emergency calls when you need it most.
Locksmith professionalism and certifications
Be sure to inquire about certifications, accreditations, licenses, and insurance. Some states require that professional locksmiths retain a license. Other states do not have specific standards in place. Also, find out whether or not insurance will cover the locksmith services. Your homeowners or car insurance may cover the cost of repairing or installing locks or for an emergency lockout service. If the services are not covered by your insurance in full, it may be partially covered. Or, your insurance company or homeowners or automobile association may be able to provide you with a list of providers that will charge you a discounted rate.
If you are working with electronic or keyless entries, ask if the installer has a basic understanding of electric and computer networking. A knowledgeable locksmith will be able to not only recommend the best electronic locks for your needs but also be able to install it properly and explain to you how to use it.
Compile a list of local locksmith professionals by asking friends and family members for recommendations and by conducting your own online search or thumbing through a phone book. Pay close attention especially to reviews from those you trust.
Ask for a price quote before any service is performed. Look the quote over to make sure you are not paying unnecessary fees. If you are in an emergency situation, pay the bill with a credit card which will allow you to later dispute the cost.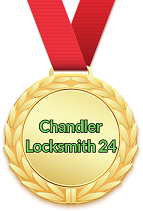 Relax, and choose a professional locksmith you can trust. Chandler Locksmith 24 is here to serve you in Chandler Arizona when you need the best locksmith for all of your locks, keys, and security needs for your home, car, office, or business. Feel free to contact us 24/7 with any questions.