Top Locks Brands
When you have a choice, don't just buy the cheapest or most available lock. Ask a knowledgeable locksmith about the top locks brands to ensure you have the best functioning lock you can afford to keep you and your family safe.
ANSI Standards
When it comes to locks, there is a standard they are graded by. This system is called The American National Standards Institute, or ANSI. Under ANSI, there are three grades given for door locks. Each lock must pass tests for operation and security. They undergo cycles of door strikes and weight tests. The final grades will help you identify the durability and the overall quality of a lockset or deadbolt.
Grade 1 is the best and highest level of security available.
Grade 2 is better than average and may be sufficient for your needs depending on the level of security needed.
Grade 3 is considered to be good.
Deadbolts are considered to be a style of lock that provides the highest level of security available for residential doors. The locks are termed to be dead-bolts because the locking systems have no springs but rather have either a single or double cylinder operation. A single-cylinder deadbolt has a key that is used to open the lock from the outside, while the inside is locked or unlocked by turning a button. The double-cylinder requires a key to unlock or lock both the outside and the inside. The double-cylinder is considered to be the most secure of the two choices but could prove to be hazardous if you ever need to exit quickly from the inside due to fire or some other need to quickly open the door in a hurry for safety purposes.
Baldwin Locks
Walk into your local, neighborhood home improvement store, and you'll most likely find Baldwin locks. They are a lock that is trusted and designed with solid construction that is strong enough to resist bumping attempts to open the lock. They are also well-liked by homeowners since you can choose a style that matches your décor and come in both traditional and keyless entry selections.
Corbin Russwin Locks
If you are looking for a lock that is easy to replace, maintain or service that also provides strength or durability, Corbin/Russwin may be your choice. They offer locks that are ideal for commercial grade facilities and schools or other high traffic institutions.
Kwikset Locks Brand
Almost every residential door in America has a Kwikset lock in place because of their affordability. Kwikset locks offer a SmartKey technology which allows you to re-key your lock yourself, making it appealing for rental properties and businesses where locks changes are often needed.
Medeco Locks
Medeco locks are top lock brand that provides the consumer with several locking system options including a wireless or eCylinder. If you are concerned about the environment, this brand offers an environmentally friendly CEF Certified Environmental Facts multi-attribute certification.
Mul-T-Lock Brand
The Mul-T-Lock brand provides users with an extremely secure, almost pick-proof lock design.
Schlage Locks Brand
If you've looked into purchasing locks, you most likely have come across the name Schlage. The brand is well-known to locksmiths. Schlage offers both key-less entries and keyed locks with security solutions for home and offices.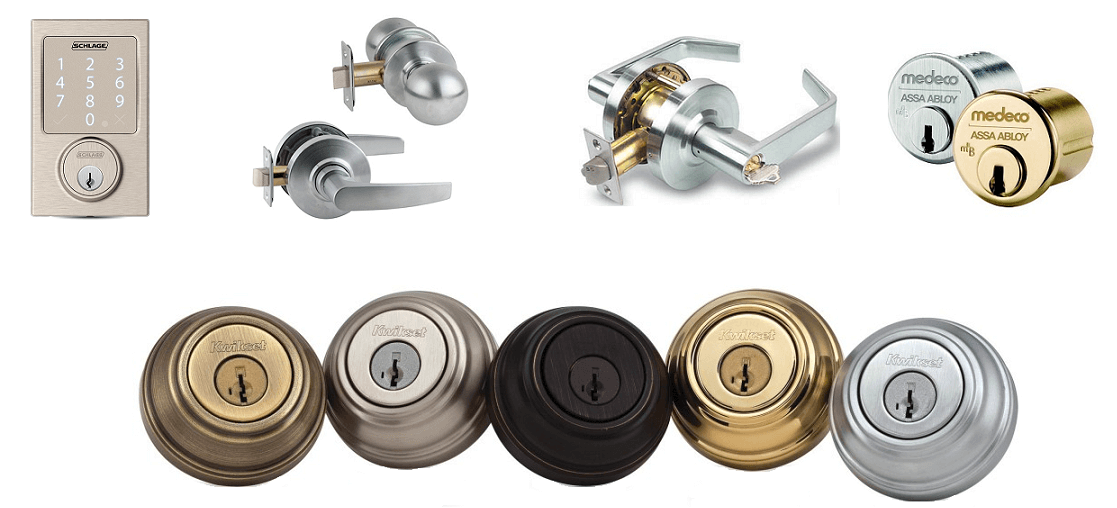 Explore top lock brands carefully, and call upon the advice from a qualified and knowledgeable locksmith professional, because your safety and security are at stake and could very well rest on the quality of your locks.